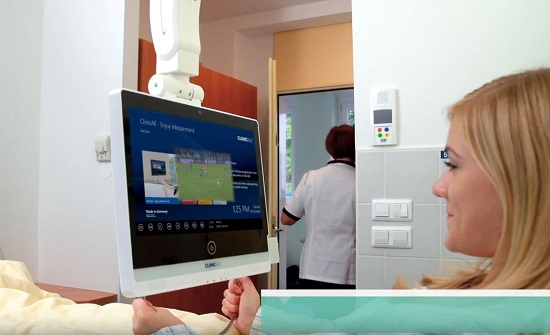 Our Infotainment system free of charge during the epidemic for patients at Clinic Golnik
"Staying connected during crisis"
During the epidemic of the new coronavirus we wanted to offer a more comfortable hospital stay for patients at Clinic Golnik, which is one of the three hospitals that treat patients with the new coronavirus in Slovenia.
Therefore SRC Infonet has partnered with our partners – our partner Clinicall International, Telekom Slovenije and Clinic Golnik, which provide our Infotainment system.
"Free of charge for patients at Clinic Golnik ."
Thankfully, we are able to offer all the content that the system provides free of charge for patients at Clinic Golnik during the crisis (in April and May): browsing the web, watching TV programs and listening to radio stations.
"Infotainment system on 120 bed terminals ."
During this extraordinary period, all patients at Clinic Golnik can use the Infotainment system on the screen next to their hospital bed free of charge. That will especially make the hospital stay much easier for those patients who cannot leave their rooms due to the virus.
We would like to thank our partners for providing free use of the services on 120 bed terminals and providing all users the access to news, offering entertainment programs and communication with family members via electronic channels.
Infotainment system is provided free of charge for patients by: Clinic Golnik, Clinicall International, Telekom Slovenije, SRC Infonet.
Are you interested in learning more about our Infotainment system in hospitals?
Would you like to offer comfort for patients and easier access to information for physicians?
Contact us to get a presentation of the Infotainment System in your institution.